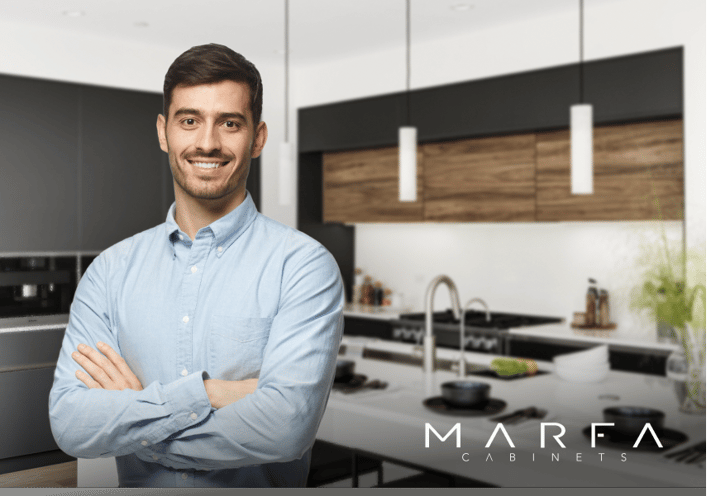 Kitchen cabinetry can be a very profitable business, and that makes the competition fierce. You will have to amp up your cabinet selling skills considerably if you want to stand a chance in this cut-throat market.
A kitchen cabinet dealer can earn up to 5%-50% profit margins from their sales. Hence, there is an influx of more and more entrepreneurs starting their cabinetry businesses.
If you are looking for a way to boost your cabinetry business, this article is full of help. So keep reading!
5 Tips To Sell More Cabinets And Beat Your Competition
We talked to several veteran cabinet dealers to gain some insight into how to build an effective cabinetry business plan. Here are a few tips that we found the most useful:
1. Showcase Your Cabinets In A Catalog
It doesn't matter how superior your products and services are if people don't get to see them. Catalogs are an excellent way to showcase your companies quality and creativity.
You can attract more eyes to your business by compiling a visually appealing and user-friendly catalog. Showcase your cabinet collections, styles, materials, colors, price, and other details. A colorful and informative catalog will help you find more customers, and its one of the tools you can use to aid your client in making the right choice for their product needs.
You want some physical catalogs for clients and vendors to page through, but the next logical step is to put that catalog online. An online catalog is a convenient option since it presents your assortment of cabinets to a broader audience and helps you manage pricing, orders, deliveries, and more. This will allow you to make changes as needed without the necessity of reprinting new paper catalogs. And you can host this on your website. Speaking of websites…
2. Build An Official Website
Imagine developing a killer catalog but with nowhere to display it! Websites are integral to all modern businesses since they are crucial in gaining exposure, boosting your reach, interacting with customers, and showcasing your services.
In today's cut-throat business world you cannot expect to grow your business exponentially by sitting in your showroom or design studio and waiting for sales to happen. An official website introduces your company to the world, is the hub of your marketing strategies, and is the key to gaining more leads. Plus, it is pretty cheap to get one.
But how do you get about it? Developing a website is doesn't even require a specialist these days; you can do it yourself! There are many online web hosting services that will walk you through building a website through drag and drop menus. The services will get you into the marketing game without taking a chunk out of the bottom line.
However, we highly recommend getting a professional to do the job. Since your website will be at the forefront of most of your interactions with a customer, you should invest in making it well-designed and proficient. A proficient website developer will know how to make one that is visually appealing, informative, helpful, fast, and optimized for search engine results.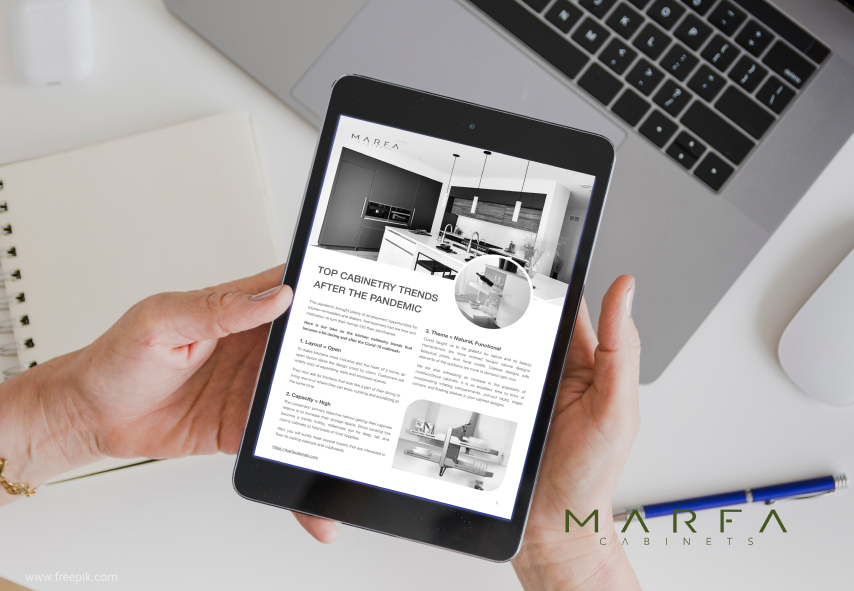 3. Make Your Business Discoverable
And that brings us to our next tip: Learn about Search Engine Optimization (SEO). A spectacular website is useless if people don't find it in their search results. That is why you need to make your business Google compliant.
SEO or Search Engine Optimization is a set of techniques through which your business website appears in the first few Google search results when a prospect searches for kitchen cabinet businesses. It is a time-taking process, and again, we recommend getting a professional to do the job.
Here are a few SEO tricks that help increase organic traffic to your website:
Keyword research and incorporation
Understanding consumer intent and producing relevant content
Enlisting your cabinetry business in several business directories
Creating connections with similar companies to gain backlinks for your website
Making your website compatible with mobile, laptop, and desktop interfaces
Optimize your website's speed
Include images that are relevant to your content and helpful for your audience
Work on getting high click-through rates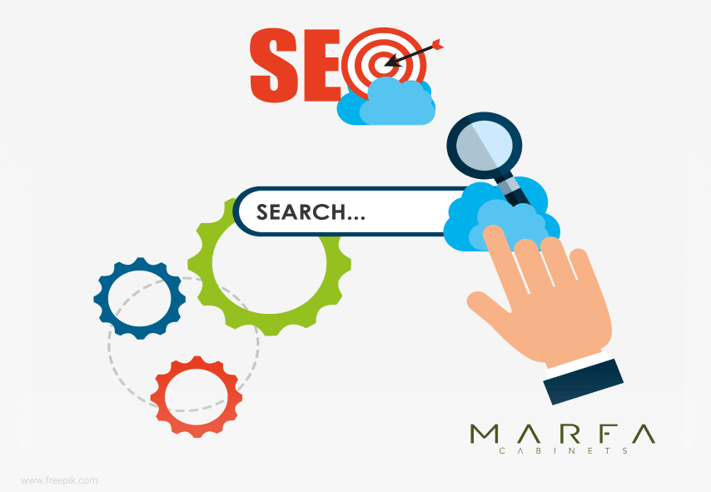 4. Use Social Media To Your Advantage
We have said it before, and we will say it again; social media is an essential tool you can have at your side to market your business.
Social media helps you expand your reach and gains trust amongst your followers. People are more likely to buy from a brand they trust rather than one they have never heard of. The more they see your name in searches, the more they will come to realize you are a major player, and you should be considered with the big-name brands.
Get your business accounts on several social media platforms and start producing and uploading relevant content. You can post pictures of your cabinet designs, behind-the-scenes videos, advertorials for your business, promotions, offers, giveaways, and competitions. All these forms of content are highly effective in increasing your fan following and getting them familiar with your brand.
A few social media platforms that are extremely popular among kitchen cabinet businesses are:
Facebook
Instagram
YouTube
Pinterest
TikTok
5. But In The End, It All Comes Down To Quality
We all know several brands with spot-on marketing techniques but terrible quality. People are always complaining about their products and services, resulting in disloyal fans and ultimately a dip in sales.
And no one wants to end up like them. Work on your products first to ensure all your marketing and customer dealing tactics hit the bullseye.
Here are a few battle fronts you'll need to conquer to come out ahead:
Exceptional Materials

The choice of materials for your cabinets is of utmost importance. You don't want your customer returning in a few days with chipped-off corners, sagging shelves, or inside seams covered in glue over-run.

European materials are popular among homeowners due to their longevity, aesthetics, and extraordinary quality. But importing them can be time-consuming, so set your expectations correctly.
Extraordinary Designs

One of the principal aspects of a kitchen cabinetry business is its designs. Keep up with the latest trends in the kitchen design and interior accessories to develop attractive designs.
Quick Turnaround

One of the reasons homeowners find kitchen remodeling projects a pain is how excessively long they can take. You can stand out among your competitors if you promise delivery within weeks instead of months. Proper lead estimation is one key to keeping your clients happy.
Design Support

Offer your customers free design support. There's a reason Joan Homeowner doesn't generally design their own space. Cabinet catalogs can be confusing to the layperson and homeowner placed orders can contain mistakes. Your staff should know your product inside and out and be available to help as needed.
Affordable Pricing

Pricing is one of the most significant factors in a buyer's mind while choosing a kitchen cabinet dealer. Ensure that your customers buy cabinets from no one else by offering the most competitive prices. But won't that adversely affect your profit margins? Not necessarily! By partnering with a manufacturer that takes care of its dealers, you can boost your sales without decreasing your gains.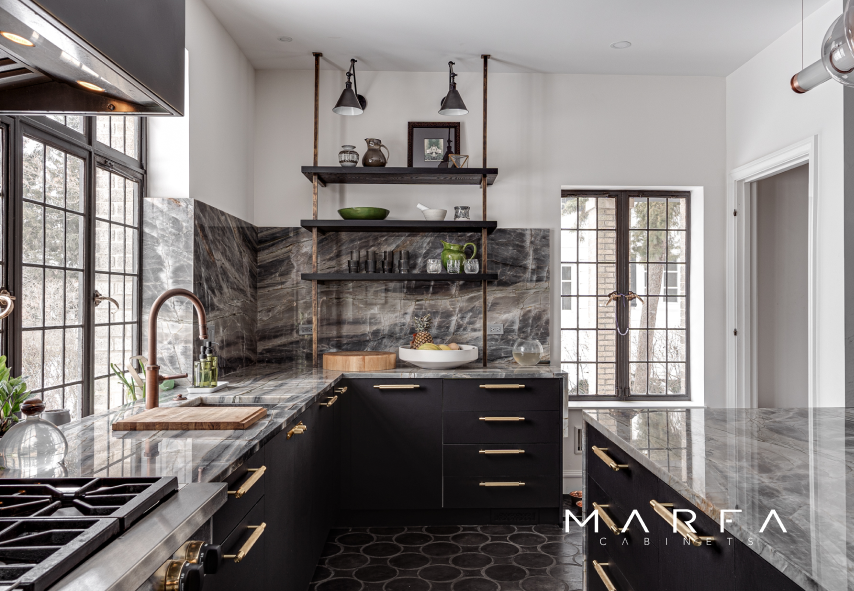 Marfa Cabinets: More Than Just A Cabinets Manufacturer!
Fulfilling your business dreams requires reliable partners. Just any wholesale supplier won't do. What you need is a top-tier manufacturer that specializes in providing the absolute best products and service.
Marfa Cabinets source materials and equipment straight from Europe with state-of-the-art designs and tight lead times. Our manufacturing factory in Illinois ensures that you win the hearts of your customers with timely delivery and a quality American made product. And to top it all off, our incentives for cabinet dealers and designers like you make it easier to earn profit margins like no one else in the business.
So what are you waiting for? Visit our website or join our Authorized Dealers Program today!