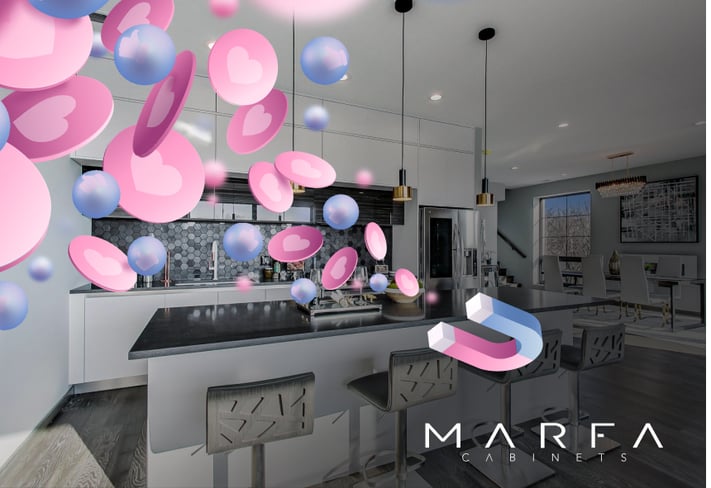 Do you even exist in 2022 if you are a business owner and do not have a social media presence for your brand?
More than 70% of people worldwide use one or more social media platforms daily for entertainment, business and shopping. That's proof enough for any business owner to include this crucial bolt in their marketing machinery. Why use old style marketing like mailers and cold calls when you could harness the power of data and the might of the world wide web. If used right, you can manipulate these global platforms to increase your reach exponentially.
The past 3 to 4 years have been rough for all businesses. The Covid19 pandemic has eliminated some competitors, significantly halted or slowed down sales for others, and even helped some businesses to thrive. Read more about how the virus affected the kitchen cabinetry business.
But here's the silver lining: A 2021 survey among small and medium-scale business (SMB) owners concluded that almost 18.9% SMBs find social media the most effective in driving sales. Impressive, right?
Social media platforms give you power. But how can you use this power to grow leads, secure deals, and ultimately make your business flourish? Marfa Cabinets is here to help
Benefits Of Social Media Marketing For Kitchen Cabinets Dealers
It is a commonly observed consumer trend that when buyers think of purchasing something, they start their search on the internet. Whether it's an inspiration for design, budget estimates, or searching for reliable companies, 80% of people use the internet to begin their research.
So, isn't it a good idea to strike the iron when it is hot and place your product in front of a client the moment they enter their first keyword? That's where social media can help you. In research conducted on the benefits of social media marketing, increased exposure was cited as the leading advantage, followed by increased traffic, lead generation, and expanding fan base.
Other persuasive reasons for using social media to market your cabinetry business are:
Ample social media following establishes authority amongst your competitors
Social media increases traffic to your business website, resulting in more conversions
Online reviews are excellent for showcasing customer satisfaction and gaining trust
Your social media following is proportional to brand recognition and fan loyalty
Social media platforms are excellent for interacting with your audience to improvise and improve your marketing strategy. You can change your marketing on the fly based on consumer trends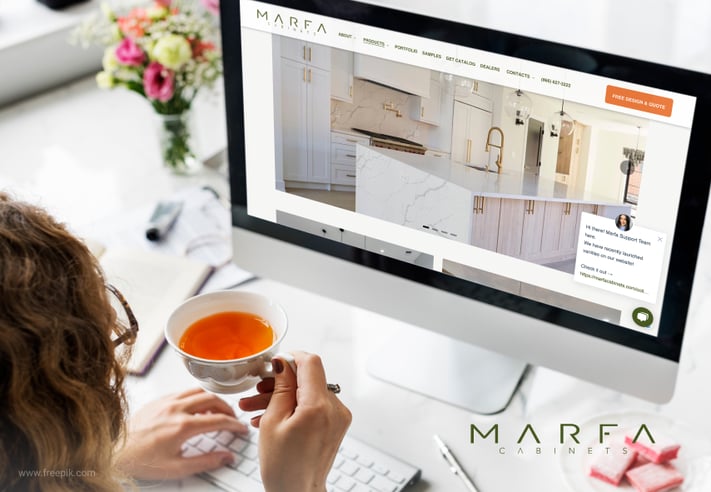 How Do I Leverage social media To Make My Cabinetry Business Flourish?
Before we start, here's our golden tip for bringing more quality into your kitchen cabinetry projects:
Always partner with dependable and top-tier manufacturers for your supplies to ensure your business continues to thrive. Marfa Cabinets is known for their extraordinary quality of products and services. Click here to learn more about how Marfa Cabinets can help you escalate your success.
Now back to our social media marketing tips!
Are you sold on using social media to market your business effectively? Now you must be wondering where to start.
Here is our guide on starting with social media marketing to expand your reach, find more customers, and establish your brand:
1. Choose The Right Platform(s)
There are more than a hundred social media platforms with millions of active users worldwide. You cannot possibly manage marketing your products across all of these platforms. The first step toward building a fruitful social media marketing strategy is to choose the right platform or platforms. You want to select a platform that you believe gives you your best target audience.
Here are a few social media platforms that are ideal for kitchen cabinets businesses:
Facebook (Meta)

As of March 8, 2022, Facebook sits number one among all social media channels, with more than 2.9 billion monthly users globally. The Meta platform also parents three other social media apps with more than a billion users.

The intense popularity of the application makes it the favorite among all kinds of businesses. You can use the platform to increase traffic to your website, gain subscribers to your newsletters, and convert leads with the following Facebook tools:

Photos
Videos
Questions
Content
Facebook ads

Instagram

Almost 12% of home renovators in the US in 2020 were millennials. Instagram is a great social media app to market your kitchen remodeling products since most use the photos and video streaming app.

You can upload images of your products, behind-the-scenes videos, and plenty of other content to build your presence on Instagram.

Pinterest

Don't sleep on Pinterest. While it clocks in with a scant (!) 444 million users, you can leverage the fact that a large percentage of its user base is comprised of women (76% as of January 2022). As a kitchen cabinet dealer, the female gender should be your prime target audience, and Pinterest can help you find some valuable leads.
2. Create Effective Content
Content has immense power in today's world of digital marketing. You can use it to engage and entice your readers to shop kitchen cabinets with you.
Here are a few steps to create content for your social media platforms that are effective in finding more leads and converting them into sales:
Set pragmatic goals for your social media marketing campaign. Ensure that these goals are traceable and measurable so you can improvise your marketing strategy accordingly.
Research your target audience. Who are your clients? What do they do? What is their gender? Where are they from? What's your demographic? What's your client's average income? Age? What are their expectations? All these are considered requirements to help you build the persona of your ideal consumer. Find this out and use it to your advantage!
Research your competitors. See how they are marketing their products online and if there is something you can do better to improve yours.
Use the above research to create content that your users will want to engage.
3. Engage With Your Prospects
Engaging with your fans is an excellent way to bring in more followers, increase traffic to your website, and boost conversions. Here are a few effective tactics to expand your interaction:
Respond to both good and bad comments
Create polls for your latest cabinet collection
Share fan-created content with credentials
Offer discounts, giveaways, and prizes
Encourage reviews about your products
Create calls to action to engage your potential client base.
4. Keep Improving Your Marketing Strategies
Being in the kitchen remodeling business isn't a cakewalk. You have to deal with ever-changing trends and customer expectations. And it is fair to say you should do the same with your social media marketing strategy.
Collect data from your recent campaigns and use the facts and figures to devise your next marketing plan. Consider changing your approach to customer behavior if you see trends that counter your current plan. Place cabinet designs and/or interesting accessories that are gaining popularity at the forefront of your marketing. Be ready to change your marketing as your business changes.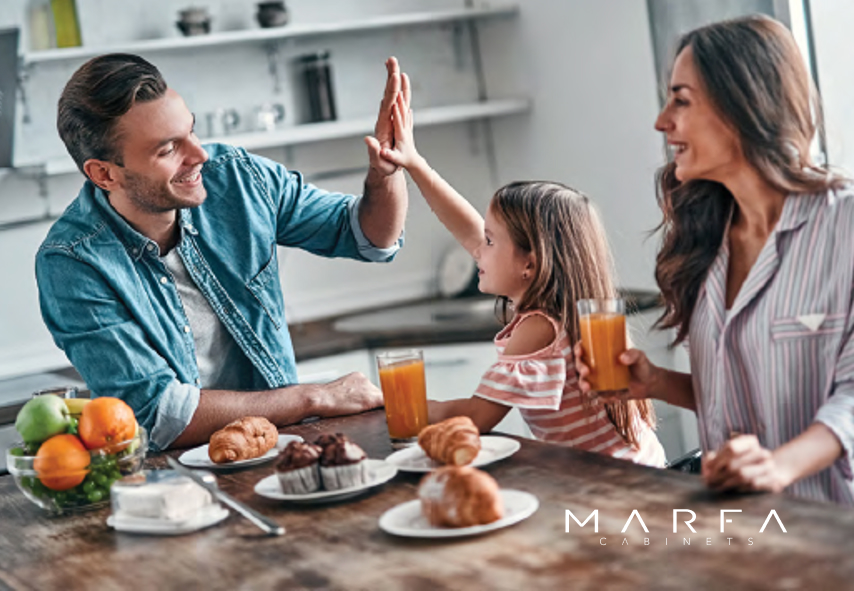 Simply Put, Social Media Helps You Roll In Cash!
You heard it! The modern way of making money out of your business is by harnessing the power of social media and using it to your advantage.
So, are you ready to transform your mundane marketing into a social-savvy brand with an immense online following? Marfa Cabinets is a trusted partner that will assist you in bringing quality marketing followed by quality service and an exceptional product.
Contact Marfa Cabinets dealers' manager to learn more about how they can help you bring quality to your products.