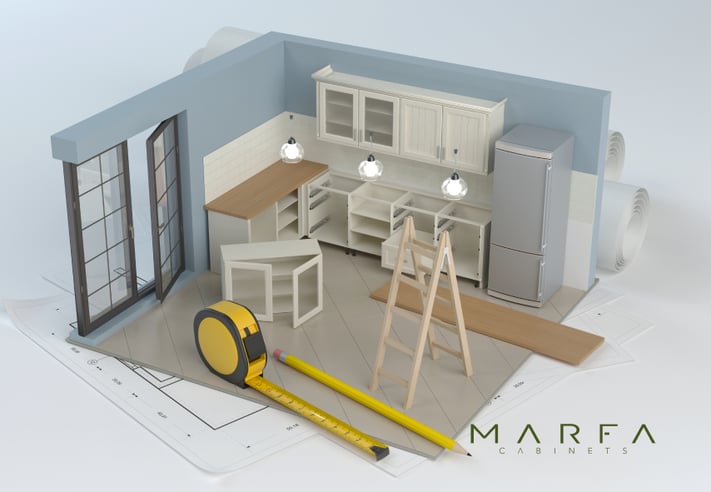 Whether you are a beginner or a veteran in sales, cabinet dealers can all agree with this: your choice of supplier can make or break your business.
Suppliers affect your relationship with your clients directly and indirectly. They can influence your products' quality, lead times, customization, designs, and a number of other things that can sway your client's opinion of you. Your client's perception of you is crucial. Here are a few tips for finding the right kitchen cabinet partner and supplier.
Why Should You Choose The Best Supplier For Your Kitchens Cabinet Business?
Kitchen and Bath (K&B) remodeling businesses thrive on customer satisfaction, but what do homeowners want while renovating a space in their home?
Here are a few key elements that impact a customer's kitchen renovation experience:
Aesthetics
Ergonomics
Smooth order and delivery process
Price
Warranty
Checking all these boxes will ensure your client's happiness and will allow your business to thrive. Word of mouth is now more important than ever. Online reviews can be seen from anywhere in the world. You rely on your cabinet manufacturer to help you come through on all the points above. So, it is justifiable to invest your efforts in finding the right supplier.
How To Choose The Right Supplier For Your Kitchen Cabinets Business?
Now that we have established the importance of partnering with the right cabinet manufacturer let's review some tips for finding one.
1. Ask For Samples
Most modern kitchen cabinets suppliers will provide you with samples of their products so you can check their quality and color consistency. Ask for every color, design, and style you are planning on including in your showroom so you can promptly show it to your customer.
If a customer agrees on a variant you don't already have a sample for; you can always ask your manufacturer to ship it to your door.
2. Research On The Internet
The internet is the best resource to check a kitchen cabinet supplier's credibility. Check their websites and social media for recommendations and endorsements. A reliable manufacturer will share their good and bad reviews with the public to build authority. Look for unbiased third party sources for reviews to gather objective opinions. If possible, use the manufacturers dealer locator to call some of their current customers and ask questions pertaining to your needs.
Want learn how people upscale their business using social media? Read here.
3. Ensure Quality
The use of quality materials should be your topmost priority when choosing a kitchen cabinets manufacturer. Assess the quality respective of a typical kitchen's environment. Cabinets are prone to spills, stains, dings and dents. An ideal cabinet will perform well with moisture, grease, odors, and regular day-to-day use.
There are many different types of cabinet substrates used by manufacturers. Not all substrates are made equal, and you should be asking the right questions. Plywood and solid wood panels can be your best option, but not always. Check with your prospective manufacturer about what types of materials they use and if upgrades are available.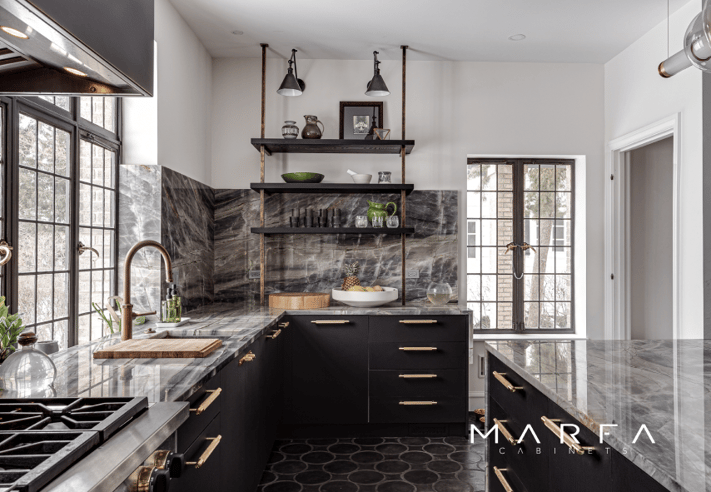 4. Assess Your Needs
Know your clients. Qualify your clients. Find a product you can learn inside and out. What manufacturer makes selection easy on you and fits the bill for your target audience? Customers like options but don't want to be overwhelmed. Find a partner that gives allows you to present a project to your clients that gives them choices without consuming them. Lean on your cabinet manufacturer for design help on complicated projects. It's a partnership!
5. Double-Check Their Designers
A reliable cabinets supplier will have a team of attentive designers that specialize in producing trendy designs that your customers will love. If you deal in custom cabinets, don't assume your manufacturer offers customization. Do research beforehand. Send a sample design to see how their business flows.
6. Prompt Delivery
A good kitchen cabinet manufacturer fulfills its promise and delivers on time. You don't want your customers bickering about delays in their home improvement projects.
Also, partnering with a local kitchen cabinets supplier can be a good idea. It will significantly cut down the shipping time and ensure timely delivery. Your best bet would be to find a manufacturer that sources top-notch materials and equipment from abroad but has an assembly facility in the US.
Most homeowners dread home improvement projects because of how dreadfully long they take to finish. You can stand out among your competitors by promising a short, consistent lead time.
Read more about how to beat your kitchen cabinet business rivals here.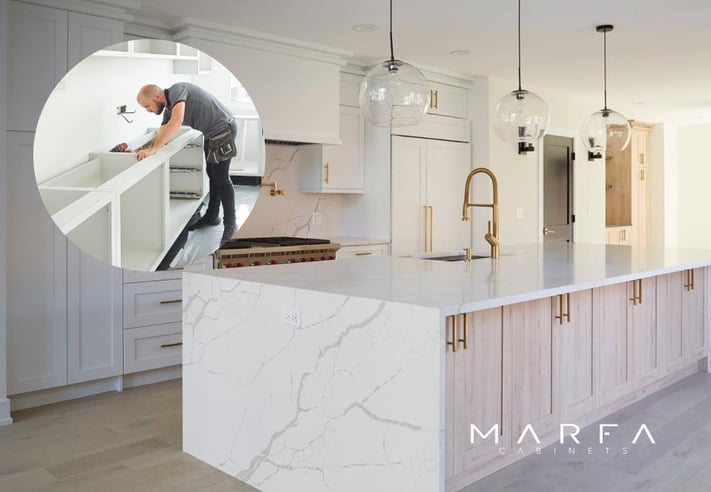 7. High-Profit Margins
A trustable wholesale organizing kitchen cabinets supplier will have a team of diligent designers that specialize in producing trendy designs that your customers will like. If you deal in custom cabinets, double-check with your manufacturer if they offer customization or not.
Where To Find The Best Kitchen Cabinets Supplier For Your Business?
Profession kitchen cabinet suppliers that care for you are a rare find.
Marfa Cabinets is a seasoned kitchen cabinets manufacturer trusted by thousands of dealers, designers, contractors, and architects. Here are a few reasons to choose us:
We source premium quality equipment and materials straight from Europe that will impress you and your clients. Our products are second-to-none in the home improvement industry.
Though we use imported resources, Marfa Cabinets' Illinois-based manufacturing facility ensures that your customers don't suffer the long lead times of our competitors. We promise to deliver high quality European materials within weeks, while most of our competitors refer to lead time in months.
Our diligent staff and skilled designers treat each project as unique to create the best outcome for you and your client. Marfa Cabinets specializes in producing custom cabinets particularly suited to your client's requirements.
We understand how much you rely on us for your business' prosperity. Marfa Cabinets' free design support helps your customers figure out their preferences when they are out of ideas or stuck in a design rut.
And the cherry on top? We know how hard you work to earn your bread and butter. Our dealer incentives offer the best prices for our vendors. You save your clients money, earn their trust, AND take home a significant profit margin for yourself by buying from Marfa Cabinets.
And all you need to do is click here to get in touch with us!